How to set up a Custom Domain in BLOGGER?
From help.pananames.com
In order to set up a custom domain, so that your original Blogger address automatically forwards to your new domain, do the following steps:
1) Login to your Blogger account https://www.blogger.com
2) Select the blog to update or create a new blog
3) In the left menu, click Settings > Basic > Publishing
4) Under your current domain, click on "Set up a 3rd party URL for your blog"


5) Enter your domain name, including the www. In our example we use mynewdomain.com domain name:

6) Click on "View settings instructions" to get the blogger's official instructions. On the Blogger instructions page, choose the "On a top-level domain (www.example.com)" option


7) Under the point 9 of instructions, 4 IP addresses will be given, copy and save all 4 of them:
216.239.32.21
216.239.34.21
216.239.36.21
216.239.38.21

8) Go back to your Blogger settings and press Save. An error will appear with two CNAMEs: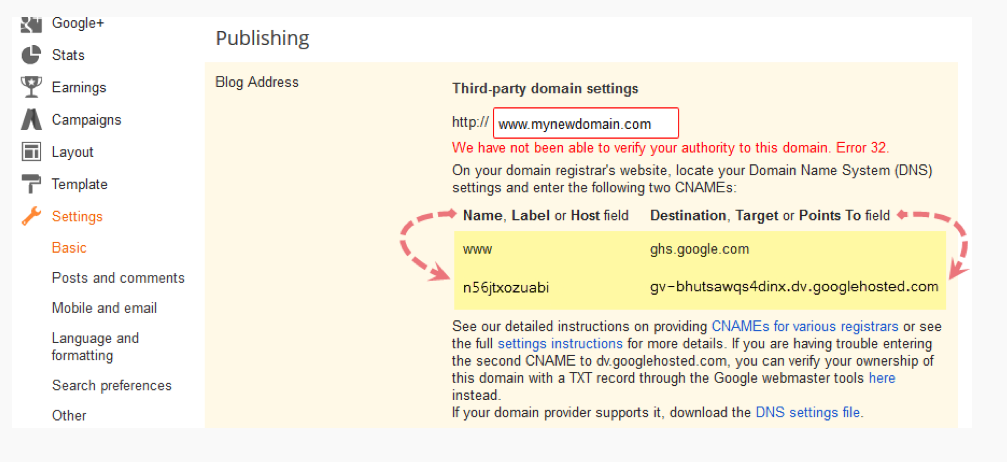 Please note that it is an example, you will be needed to use the CNAMEs that will appear using your domain name!
9) Visit your account at PanaNames and find the Host Records in the control panel:
click on the domain name and under title "Host Records" press on "Edit".
Then you will see the following window where you can set the following host records:

Please note that domain name(s) have to have our NameServers as:
ns1.panaservers.com 
ns2.panaservers.com 

or
ns1.pananames.com 
ns2.pananames.com

10) Enter the CNAMEs provided in the error message (for your own domain name).
Optional: You can also enter A-records, which link your naked domain (mynewdomain.com) to an actual site (www.mynewdomain.com).
Enter your domain name in the format mynewdomain.com, and list the IP addresses. You'll need to add four separate A-records which point to four different Google IPs.
mynewdomain.com  A  216.239.32.21
mynewdomain.com  A  216.239.34.21
mynewdomain.com  A  216.239.36.21
mynewdomain.com  A  216.239.38.21

and click Save.
Wait for a few hours for your settings to activate/update.
11) Now go back to Blogger, Settings | Basic tab, find the area for "Publishing" and try to Save settings again. The registration process may take up to 48 hours for the process to complete. If you see an error after 48 hours, try the process again.
12) After your URL starts working, click on the "Edit" link next to your domain name on settings page in your Blogger account.
13) Check the "Redirect... to..." checkbox below your site address to ensure that even if the visitors will miss out the "www" part, they will still be able to reach your site:

14) Save it